"Service Driven By Integrity and Professionalism"
Carter County covers an area of about 500 square miles and is located in the Ozark Highlands of Missouri. Approximately half of the six thousand county residents live in the small municipalities of Van Buren, Ellsinore, Grandin, Hunter and Fremont. The remaining residents are dispersed throughout the mostly remote rural areas of the county. There are approximately 500 miles of paved, gravel and dirt roads throughout the county.
Floating on the Current River, which splits the county, east and west, is a popular summer activity, which brings tourists to the area during the summer weekends. The tourism influx routinely fills the county's campgrounds and easily doubles the population of people in the county.
The six (6) full-time deputies and two (2) part-time deputies of the Carter County Sheriff's Office patrol the over 500 square miles of Carter County and are the primary law enforcement officers in the cities of Ellsinore, Grandin, Hunter and Fremont. They are the only law enforcement in the rural areas of the county. The sheriff's office deploys six patrol vehicles. The two (2) detention deputies of the Carter County Sheriff's Office ensure that the daily needs of our inmate population are met while maintaining the security of the Carter County Jail facility.
The Carter County Sheriff's Office provides dispatch service for the Van Buren Police Department, the Ellsinore Police Department, Grandin Police Department, all county Fire Departments, and the Carter County Ambulance Service. We also provide jail services for all law enforcement in Carter County, which includes the Missouri Highway Patrol, the US Park Service and the Missouri Department of Conservation.
Sign Up for Public Safety and Weather Alerts by



11/23/2023
Arrests 11/2/2023 - 11/23/2023
...more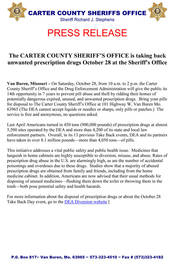 10/27/2017
Drug Take Back Day
...more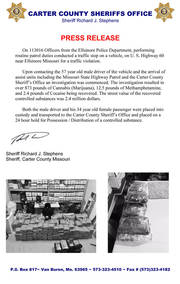 12/19/2016
Large Quantity of Controlled Substances Recovered
...more